2020 BMW 8-Series Convertible Caught in a Spy Video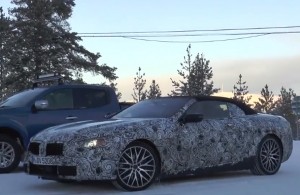 A new video surfaced showing a new convertible from BMW. The source said it will be the 2020 BMW 8-Series Convertible. The auto will be the automaker's response to the Mercedes-Benz S-Class Cabriolet.
According to Motor Authority, BMW is working on a replacement for the 6-Series coupe and convertible models. The cars will be positioned higher in the hierarchy of the automaker's vehicles. The report claimed the vehicles will be under the 8-Series range.
Supporting the article is the earlier confirmation of BMW about the move. It was revealed last May during the launch of the 8-Series Concept at the 2017 Concorso d'Eleganza Villa d'Este.
The source noted that BMW never released a convertible variant for its original 8-Series. However, it appears that the plan was just shelved because a prototype of the convertible version existed in the past.
The spy video shows the BMW 8-Series Convertible with a soft top. The report pointed out that it might only be a ruse to hide the retractable hard top of the car.
It seems that the vehicle rides on the carbon fiber CLAR platform of the brand. The unit was used in the 2016 BMW 7-Series.
The post said that BMW trademark documents suggest that the 8-Series will spawn 850, 860 and M850 models. The range will be carrying V8 and V12 engines.
The M Performance version of the 8-Series will most probably get the new 4.4-liter twin-turbo V8 engine, which will be showcased this year in the upcoming BMW M5. The power of the auto will be distributed via an 8-speed automatic transmission and paired with the M division's latest M xDrive all-wheel drive system.
It is not clear when the unveiling of the new BMW 8-Series Convertible will take place. The source discussed that it might be in 2018.
Spy Video of the BMW 8-Series Convertible
Due to the privacy settings of the uploader, the video cannot be played directly from this page. You can still click the box below though, which will take you directly to the spy video of the car.