2020 Ford Escape SUV Starts At $25,980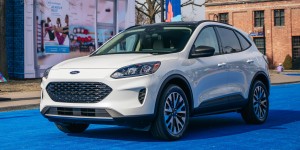 The 2020 Ford Escape compact SUV will start at $25,980 but could top off at $40,000 when fully loaded. Ford released the price details for its Escape range, which is due to arrive in dealerships in a few months.
The compact SUV did not divert from its affordable pricing, only increasing slightly from its predecessor. Considering the added features and the hybrid option, the price increase isn't significant at all.
The base S model is the one priced at $25,980 while the SE can be bought for $28,190. The SE Sport (hybrid) will cost $29,530 and the SEL $30,350. The top-of-the-line Titanium (hybrid) loaded with all the options will sell for $34,495 while the Titanium regular comes with a price tag of $37,780.
The base model is $780 more than the predecessor's entry-level model. That gets you the standard features of a suite of driver-assist systems such as blind-spot monitoring and forward collision warning.
The SE model adds an 8.0-inch touchscreen that's compatible with Apple CarPlay and Android Auto. The SEL model gets more features. These three models will have a turbocharged 1.5-liter three-cylinder engine mated to an eight-speed automatic and front-wheel-drive configuration. The engine can generate 180 horsepower.
If you want the all-wheel-drive setup, you need to add $1,500. For the SEL trim, an AWD configuration will get the more powerful turbocharged 2.0-liter four-cylinder engine with 250 horsepower. That's an additional $2,285.
The top-of-the-line Escape Titanium regular (not the hybrid) has the 2.0-liter engine and AWD. At $37,780, any additional option will put it on the $40,000 mark.
The hybrid model comes in two trim levels: the SE Sport and the Titanium. Standard to these two trims is a front-wheel-drive, although you can get the AWD for $1,320 or $1,500, respectively.
There's no official EPA rating yet for the Escape hybrid but it should have around 38 mpg combined. There's talk of a plug-in hybrid model with 30 miles of range, but that would probably arrive next year.