2020 Ford Explorer Will Be Officially Revealed On January 9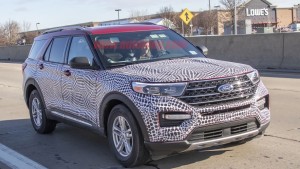 Ford is scheduled to reveal its 2020 Ford Explorer on January 9 at the Ford Field in Detroit. But before that, there will be an offsite unveiling on Thursday, about a week before the 2019 North American International Auto Show in Detroit.
The new SUV will have an evolutionary look and will ride on a new rear-wheel-drive platform called the CD6 architecture. This platform is being shared with the 2020 Lincoln Aviator, which was shown last month at the 2019 Los Angeles Auto Show.
There were no confirmations from Ford regarding the Explorer's powertrains but a leak in August showed the ordering guide that detailed the SUV's powertrains. The guide said the engine choices would be a 2.3-liter turbo-4, a 3.3-liter V-6, and a 3.0-liter twin-turbo V-6. The 3.3-liter V-6 will be available with or without a hybrid system as Ford shifts to more economical setups. The engines are most likely going to be paired with a 10-speed automatic transmission. An all-wheel-drive system will also be available.
The 3.0-liter twin-turbo V-6 engine has already been tested. This is the same engine being used by the Michigan State Police for testing. This powertrain will make the Explorer the quickest police vehicle in America. For fuel efficiency, Ford plans to offer the hybrid version of the 2020 Explorer to those in patrol duty.
It is the standard Explorer that will make its debut in January but Ford is also planning to release another trim level of the car called the Explorer ST. This variant is the performance-oriented version of the SUV and it will follow in the footsteps of the Edge ST, which was launched this year. The Explorer ST will be edging out the Explorer Sport model in Ford's bid to revamp its lineup to introduce sportier crossover SUVs.
Source: Autoblog