2020 GMC Sierra Denali 2500 Spy Shots Revealed New Details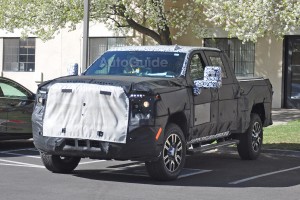 This year has been a big one for trucks. Since the start of the year, we have seen the new 2019 Chevy Silverado, 2019 Ram 1500, 2019 Ford Ranger and the 2019 GMC Sierra. Last week, we saw the new 2018 Ford F-150 Power Stroke diesel, and the Silverado, Ram, and Sierra HD variants will soon follow. There's even a teaser for the Silverado 2500. To add to all of that, we now have access to spy shots of the upcoming 2020 GMC Sierra 2500 Denali.
The new 2500 Denali model aims to look more than just the Silverado, just like the Sierra 1500 model. It has a new face and even with the camouflage, we can see that the new grille has roughly the size of a regulation football field (okay, that's an exaggeration, but you get the drill). All of that new grille is wrapped in a sea of chrome, giving the new 2500 Denali model an aggressive look that's perfect for its off-road capabilities.
Since the prototype taken by AutoGuide is seen in full camouflage, it's hard to tell what else is in store for us, design-wise. We can see that the front and rear fender have significant flares, though it is also likely that these came from the covering. We're still not sure about that. Reports have indicated that the new truck will have the MultiPro tailgate, but GMC has yet to confirm these speculations or whether there is even basis to them.
What we can expect is that the new CarbonPro carbon-fiber bed will be carried over to this new model. Other than that, it's a wait-and-see game.
Aside from the Sierra Denali 2500, we can also expect the Sierra 3500 to arrive alongside the other heavy-duty variants. There will surely be a mix of aluminum and steel bodywork, similar to the light-duty models.
Spy Shots
Check out the spy shots of the upcoming GMC Sierra Denali 2500 in the gallery below: