2020 Jeep Gladiator vs 2019 Ford Ranger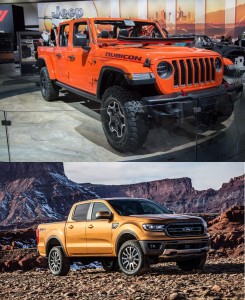 We've seen the US-spec version of the 2019 Ford Ranger at the Detroit Auto Show, marking the first sighting after seven years of absence from the US soil. The Ranger, however, is coming back with a lot of competitions to face, particularly the very able Wrangler-based pickup called the Jeep Gladiator.
Exterior
Ford didn't change anything with the Ranger from the last time it was seen here seven years ago. It feels old and it didn't add anything to the game. Jeep, on the other hand, also didn't try anything radical with the Gladiator. There's nothing in the design that will surprise or wow you but it's exactly what a Wrangler-based pickup should look like.
Our bet? The Gladiator.
Interior
The pickup trucks' interiors will appeal to different sectors. The Ranger's interior offers comfort and refinement. In fact, we wouldn't be surprised if Ford somehow uses the same layout in its crossover range. Then, we've got a Wrangler-inspired interior for the Gladiator. Forget about inspiration. The Gladiator's interior looks like an exact copy of the Wrangler, which was a crowd favorite. It may not look as comfortable as the Ranger's interior but we're very much sure anyone riding the Gladiator will feel the luxury and pleasure of a well-appointed Jeep.
Our bet? The Gladiator again.
Powertrain
When it is launched, the Gladiator will come with a 3.6-liter V-6 engine that makes 285 horsepower and 260 pound-feet of torque. It plans to add a 3.0-liter turbodiesel V-6 that produces 260 horsepower and 442 pound-feet of torque. A six-speed manual transmission will come standard while an eight-speed automatic is optional.
For its part, the Ranger comes with a single option: a 2.3-liter turbocharged four-cylinder that's good for 270 horsepower and 310 pound-feet of torque. The only transmission this engine will be paired with is a 10-speed automatic.
Our bet? The Gladiator once more.
Honorable Mentions
Jeep added 31 inches to the Wrangler's unlimited frame, giving the Gladiator a five-foot bed. With the tailgate down, that's enough for some off-road activities with your dirt bikes. The Ranger's bed, however, matches the Gladiator with five feet but Ford offers a six-foot option for buyers who need the additional space. In this regard, Ford wins, hands down.