2020 Kia Soul Gets Funkier, Thanks To A New Unilight Feature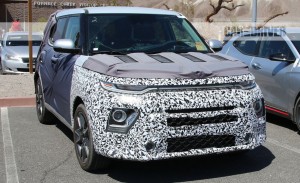 The third iteration of the Kia Soul will get a lot funkier as seen in the major changes brought about by its next-generation model. Since going on sale nearly a decade ago, this tiny box became a staple in Kia's model lineup. In fact, a redesign back in 2014 infused additional features into the hatchback, paving the way for the Kia Soul Turbo in 2017.
Sure, the Soul was part of many "Best Trucks and SUVs" list back in 2017 and 2018 but the competition is getting tough in this segment and it's time for Kia to bring out the big guns.
Aside from the roofline of the 2020 soul that still looks similar to the current generation, everything else has been altered to create an eccentric new look for the car.
Up front, Kia decided to let go of today's traditional large headlamps and went instead for a pair of low-mounted units that could almost be mistaken for fog lights. The combination turn signals and LED daytime running lamps (the "unilight") sit above the grille.
At the back, the D-pillar-mounted taillights now have a three-dimensional appearance and are merged into the liftgate. This just made the Kia Soul more identifiable on the road as it is before without necessarily losing its unique character.
The Soul will offer the same powertrains and platform as the Kona. The entry-level model would have a 2.0-liter inline-four that produces 147 horses. An upgrade would be a turbocharged 1.6-liter, though the output remains shady for now. We're pretty sure it would exceed the Kona's 175 horsepower and would instead stand closer to the Soul Turbo's 201 horsepower.
The base model will be paired either with a six-speed manual or a six-speed automatic gearbox. The Soul Turbo will use exclusively the brand's seven-speed, dual-clutch automatic. The Turbo would also have distinct features such as the mesh-style grille and center-mounted exhaust outlets.
Photo Source: CarAndDriver