2020 Mercedes-Benz EQ C Electric Crossover Is Nearly Production-Ready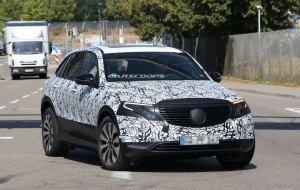 Mercedes-Benz has been very open about its plans to produce an electric vehicle and we might be seeing that in the upcoming EQ C electric crossover SUV. Spy photos showed that the electric crossover SUV has a glitzy concept, thanks in part to the interesting front fascia.
Until now, we haven't seen a clear picture of the vehicle, but the latest spy shots showed the crossover SUV with less camouflage and body-hugging vinyl wrap.
The most interesting part about the vehicle is the front fascia, which is very different from the current styling that Mercedes-Benz does on its SUVs. The grille is upswept, unlike the frown-like shape of other recent Mercedes cars. The grille also extends all the way to the headlights, eliminating the need for a body-color section between them.
Speaking of the headlights, they are now reshaped and starts thin at the edges and sweeps downward toward the inside. It looks like the body panel will wrap around the bottom of the grille and will match the unique shape of the headlights. They will come with a contrasting color, possibly black, to put a rather unique spin to the car.
Interestingly, these are the same details shown during the unveiling of the car's concept in 2016.
The rest of the EQ C electric crossover looks conventional and traditional. It has a profile that speaks of an internal-combustion, rear-drive car with a long nose and plenty of space between the front axle and the A-pillar. The lines on the car are smooth and curvy while the windows and the taillights would not be out of place on any other Mercedes vehicles.
The back end is quite rounded, though, almost looking like a bulbous Land Rover Velar tail. Capping the exterior design is the wheels, the design of which is based on the 2016 concept (but this one is simpler).
Inside, you'll find the cabin wrapped in premium materials with elegance written all over it. The interior has giant dual screens for instruments and infotainment.
The Mercedes-Benz EQ C is scheduled to be on sale in 2020. Details about the powertrains remain vague for now, but it looks like it would have dual motors that produce 402 horsepower from all four wheels.