2020 Mini Cooper S E Shows Off Unique Features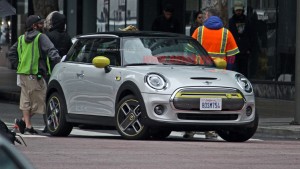 Mini's latest electric car, the 2020 Mini Cooper S E, was photographed entirely uncovered by spy photographers. The Mini was caught in its full glory as it was doing a photo shoot, which was probably for press and marketing materials.
From the outside, the dealership-ready car isn't all that different from the regular 2019 Mini Cooper hatchback and convertible. However, the spy photos did reveal some telling and unique features on this new electric Mini.
The front grille loses that mesh-like appearance. It has been filled in and a singular highlighter yellow stripe runs in the middle. The yellow highlighter stripe has a small opening to allow the engine to breathe. This was the same thing we saw on the concept, so it wasn't much of a surprise that Mini decided to go with it. There's also the circular medallion attached to the stripe, indicating that this is an electric version.
Aside from that, the only changes on the exterior are the debossed electric logo on what used to be the fuel-filler door. Obviously, this now houses the charging port. The wheels are also smaller versions of what was seen in the concept model. The panels, bumpers, lights, metal body, and windows were all similar to the regular Mini.
Details about the powertrain have not been made available, but here's hoping it follows the footsteps of the 2009 Mini E, which produced 204 horsepower and 162 pound-feet of torque. It also has a range of 150 miles.
We expect that the 2020 Mini Cooper S E will be ready for the market very soon. After all, Mini is already taking official photos of the car. We could probably see Mini's latest electric car at the Frankfurt Motor Show a couple of months from now, though we won't be surprised if the company decides to have an earlier launch.