2020 Nissan Titan Gets New Front, Rear, And Interior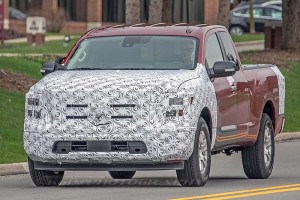 Nissan is preparing its new 2020 Titan to go against the likes of the Ford F-150, Chevrolet Silverado 1500, Ram 1500, and Toyota Tundra. The Japanese automaker's new 2020 Nissan Titan pickup truck is expected to wear a new front and rear, as well as an entirely revamped interior.
Spy photographers have recently caught a prototype of the Titan testing on the roads of Michigan. The front and rear designs are wrapped in heavy camouflage but a quick look into the interior says Nissan is busy upgrading the truck's cabin, too.
The current-generation 2017 Titan was expected to go head-to-head with the F-150's and the Silverados of the light-duty pickup truck segment, but the Titan lags both in rugged capability and interior quality. This new look could be the break Nissan is looking for in terms of sales.
Nissan only said 9,700 units of the Titan and the larger Titan XD in the first quarter of 2019. That's a decrease of 24% from the same period last year. The numbers lag behind Ford, GM, and Ram with more than 100,000 units sold. Toyota had 25,000 Tundra trucks sold during the same period.
Though the prototype has hidden its front headlights, taillights, and front grille well, the photos showed that the bumper grille appears the same as the current models. The Titan's silhouette and body styling remain unchanged, too.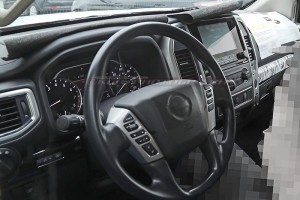 It is in the interior that Nissan seems to be apologizing to its market as it now removed, thankfully, the CD slot and upgraded that into an infotainment screen. The new truck will also have an eight-inch screen, a tad bigger than the five-inch and seven-inch screens the current generation has.
The current Titan falls below in engine options and high fuel-economy ratings but that might change with the 2020 Titan as Nissan could offer a 3.7-liter V6 as its base engine. The larger Titan XD may also come with the standard V8 engine or the optional five-liter Cummins turbodiesel to increase the towing capacity and driving range.