2020 Porsche Taycan EV To Drop Officially On September 4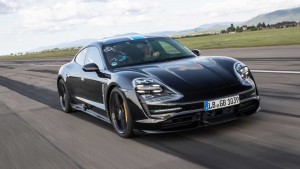 The 2020 Porsche Taycan EV will make its official debut on September 4, the company said. It will be revealed at 9 a.m. EST in three simultaneous locations in Canada, China, and Porsche's native Germany. So, mark your calendars because the global debut will be live-streamed on the company's dedicated online TV microsite.
The debut in China shows just how much Porsche wants to take a piece of the pie that is the Chinese market.
The first concept of the Porsche Taycan EV was aptly called the Porsche Mission E. Back then, the concept already revealed that the new electric car will have an 800-volt electric system that will allow for super-fast charging. This was a massive investment for Porsche.
It remains to be seen whether this concept's features will pass on to the production form. The concept promised about 250 miles of range in only 15 minutes of charging. Porsche also said the car will have a driving range of more than 300 miles. The Tesla Model S has the current longest-range version of 370 miles.
According to the company, the Taycan EV can make 600 horsepower and get from 0 to 62 mph in just 3.5 seconds. If you want to take the Taycan, which translates to "lively young horse" in reference to the center of the Porsche crest, to the race track and make repeated hot laps, the electric sedan can still sustain its performance numbers.
This claim was proven by a video on YouTube, which, in just 17 minutes showed the all-wheel-drive Taycan getting from 0 to 124 mph 26 times in a row. The result showed that the fastest and slowest times were only off by 0.8 seconds.
The debut of the Porsche Taycan should give us an idea of how the company envisions the future of electric cars to be.