2020 Toyota RAV4 TRD Off-Road Pricing Revealed at $36,300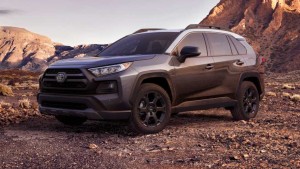 After the unveiling of the 2020 year model Toyota RAV4 TRD Off-Road sport utility vehicle at the Chicago Auto Show, we were left wondering how much it will cost. Now, we know that it will start at $36,300, which already includes a $1,120 destination fee.
The RAV4 TRD Off-Road sits somewhere between Toyota's entry-level LE and the more expensive Limited trims. The former is priced at $26,970 and the latter is just $300 more than the TRD Off-Road.
The TRD Off-Road is only a notch above the Adventure trim with its off-road focused features (as indicated by its name). However, the off-roader is $2,225 more costly than the Adventure version of the RAV4.
Under the hood, the TRD Off-Road is equipped with a 2.5-liter engine much like the RAV4's other trims. That's good for a 203 hp peak output. Also, it is available only in an all-wheel-drive system like its siblings.
Justifying its price though is its tuned suspension, reconfigured coil springs, and modified shocks. Since it is designed to conquer rugged terrains, these are partnered with 18-inch matte black wheels.
The auto is offered in a two-tone finish called the "Magnetic Gray with Ice Edge" palette. The Midnight Black and Lunar Rock color schemes can be combined with Ice Edge for those who do not like the standard colors of the SUV. Furthermore, buyers who want a simpler tone for their autos can just go for the Super White and Ruby Flare Pearl themes.
Inside, the "TRD" letterings can be found in the vehicle's headrests and all-weather floor and cargo mats. Red stitchings also highlight its upholstery.
Check out some of the 2020 Toyota RAV4 TRD Off-Road's photos in the gallery below: