2020 Volkswagen Atlas Cross Sport Nears Release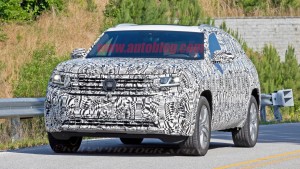 The German company Volkswagen revealed at last year's New York auto show that it plans to release a two-row version of its Atlas crossover. The Volkswagen Atlas Cross Sport concept will supposedly come into production this year and it seems that Volkswagen kept its promise.
When the Teramont X was released to the overseas market a couple of months ago, many thought this was the Cross Sport crossover that the German automaker promised. However, recent spy shots of another VW crossover showed how the 2020 Atlas Cross Sport will be different from the Teramont X.
The spy photos showed the Cross Sport's prototype wrapped in camouflage but this clearly is a diversion. The crossover is ready for production and its on the final stages of testing. The overall shape is similar to the Teramont X. It has that boxy, old-school profile. The rear hatch, however, leans far forward, similar to many luxury coupes. It also has a very thick D-pillar.
The Cross Sport's front fascia is similar to the concept, unlike the regular Atlas and the Teramont X. It can be said that it rallies close to the VW Jetta with the grille dipping below the headlight line. The grille opening in the middle of the front bumper is also positioned much lower than the outboard ones.
Moving to the back, the Cross Sport is fitted with taillights that have redesigned LED bars like the ones found in the VW Golf.
We can expect the Atlas Cross Sport to enter production in the next few months. It should be ready in dealerships before the year's end as this will be a 2020 model. The competition is tough, though, as it should be ready to compete with the likes of the Nissan Murano, the Honda Passport, and the Hyundai Santa Fe. The Chevrolet Blazer and the Ford Edge are competitors, too.