2020 VW Golf Gets Powerful GTI And Golf R, But No e-Golf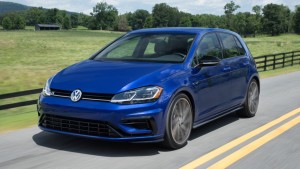 Are you waiting for the next-generation Volkswagen Golf? The eighth-generation model will most likely make its grand debut at the Frankfurt Motor Show next year, but we now have emerging details on what we would most probably see when the launch arrives.
According to a report by Auto Express, the VW Golf will spawn two powerful models—the GTI and the Golf R, in addition to a plug-in hybrid model that we will know more details about in the coming weeks. The problem? Those who are expecting we'll finally see an electrified version of the Golf will be disappointed. It appears from the report that plans for e-Golf have been shelved, at least for now.
The Golf's performance-oriented models, the GTI and the Golf R, on the other hand, will get more powerful in the next-generation versions. Both models will get boost in power for a total of 250 horsepower for the GTI and 350 horsepower for the Golf R.
In terms of competition, the boost in power will put the GTI at the same level as that of the Ford Focus ST and the Subaru WRX while the Golf R can compete with the likes of Ford Focus RS. It will also be a lot closer in specs with the Mercedes-AMG CLA45 and the GLA45 models.
e-Golf Plans Gone, Gone, Gone
The unfortunate thing is that plans for the e-Golf, which Volkswagen previously boasted would have a 186-mile range, have been shelved for now. The electrified version of the Golf is not included in this eighth-gen iteration of the model. According to reports, e-Golf fell victim to VW's focus on the I.D. line, particularly the I.D. hatchback, which will arrive possibly in 2021 after the new Golf for Europe has been released.
That hatchback, VW said, would deliver 373-mile maximum range for Europe. In the United States, the first I.D. would be the production version of the I.D. Crozz in 2020, followed by the I.D. Buzz van in 2022.
What we can expect now is that the current-generation e-Golf would stay until the I.D. makes its debut.