2021 BMW i4 EV Electric Car Shows Influence From Vision Dynamics Concept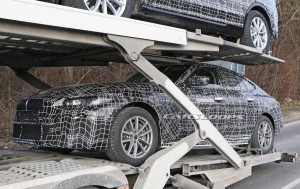 Spy photos of the 2021 BMW i4 electric car showed that it did follow last year's i Vision Dynamics concept as can be seen from its four-door coupe silhouette, angular c-pillar, a decklid with a slight ducktail spoiler lip, and a front end with a sloping roof.
The i4 was confirmed by BMW chairman Harald Krüger at the Paris Auto Show in October last year. Dubbed as the i4, this will be the group's fifth fully electric "core" model. This is also the fourth EV that BMW produced between now and 2021.
According to the i Vision Dynamics concept, the i4 will have an electric range of 373 miles, a top speed of 125 mph, and a 0-to-62 mph time of 4.0 seconds. But unlike the current i3 and i8, the i4 won't be made with a carbon-fiber structure.
The spy shots, which showed the i4 in camouflage while riding on the back of a car carrier, hinted of small kidney grilles out front though it is also possible the production model will carry the concept's burly and massive conjoined kidney grilles. It's hard to see anything else with all that camouflage but the headlights and the taillights are not production units yet. Similar to the 4-Series Gran Coupe, the i4 might be a liftback with a large hatchback opening perfect for outdoor adventure.
The BMW Group is expected to release three other new EVs over the next three years. This year, it will be the Mini Electric, which was previewed as a concept last year. The production car will sit close to the concept and will share the powertrain of the refreshed i3, which has a range of 153 miles.
Up next is the iX3 in 2020, which was also previewed as a concept. This is the electronic version of the X3 crossover. It carries a 70.0-kWh battery pack with a range of 249 miles on the European cycle.
Finally, the iNext should arrive in 2021. Previewed through the Vision iNext concept, this will be BMW's tech flagship and will have a range of 373 miles, reaching 60 mph in less than four seconds.