3 All-Important Rumors About The 2020 BMW M3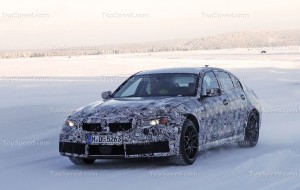 The BMW M3 has been around since 1985 and has always been the go-to car for its reliability and its style. The latest F80 generation dropped in 2014, but we're now looking at the next-generation M3, dubbed internally as the G80.
Exterior
Based on the recent spy shots of the car from TopSpeed, this compact four-door screams sports machine from the first view, thanks to its wide and low stance, aggressive aero bits, and larger intakes in the front fascia. At first, the camouflaged version looked a lot like the standard 3 Series but a closer inspection revealed the transformation from a luxury sedan to a performance car.
Finishing off that aggressive and sporty look are the flared fenders, the pronounced rear trunk spoiler, and wheels that measure between 19 and 20 inches in diameter.
Interior
The 2020 BMW M3's cabin is almost the same layout and design as the current model. It has a lot of space, enough for a total of five passengers. The dashboard will continue to have physical buttons used to control the car's features and a widescreen will be mounted on top of the dash.
The steering wheel has a three-spoke design with loads of buttons and switches to control the car's main features. One of the biggest upgrades, however, would be the gauge cluster behind the steering wheel. It will all be digital, something that both Audi and Mercedes have been planning for quite a while.
Performance
The 2020 BMW M3 will have a new powertrain package—a standard M-tuned twin-turbo 3.0-liter inline six-cylinder. Known also as the S58B30, it's the same engine used in the M4. It could produce as much as 500 horsepower, the lowest estimate might peak at 465 horsepower and 450 pound-feet of torque.
The engine will be paired with an eight-speed automatic, replacing the current dual-clutch seven-speed unit. We could also see BMW offering the new M3 in RWD and manual gearbox.