3 Amazing Features of the 2019 Porsche Cayenne Turbo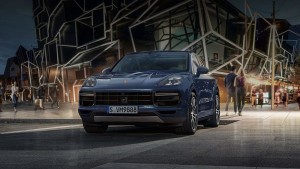 As if Porsche hasn't done enough on its Cayenne, it now launched the 2019 Cayenne Turbo at the Frankfurt Motor Show. The new Porsche Cayenne Turbo is definitely more powerful, sportier, and more aggressive. With a V-8 engine, the Turbo version of the Cayenne will surely give every competitor a run for its money.
1. Minimal Exterior Difference
So far, we haven't seen a lot of difference between the base model, the S, and the Turbo. The three have the same headlights and general fascia, though Turbo's side intakes and grill are larger. The Turbo has no fog lights up front and the radiator grille is more open compared to the other two models.
At the rear, the only differences are the rear diffuser and the square exhaust outlets. Topping off the Turbo's more aggressive styling are 21-inch wheels.
2. Luxurious Interior
When you enter the Turbo, it almost feels likes the base model and the S model, albeit the instrument cluster in front of the driver has a single analogue gauge in the center with a seven-inch digital display on either side. On the right, you can find a 12.3-inch infotainment and navigation display.
Standard equipment that went along with the cool setup of the instrument cluster are a 710-watt Bose sound system, 18-way sport seats, heated seats in the front and rear, heated steering wheel, and integrated headrests.
3. Lightweight but Powerful
Under the hood, as mentioned above, you'll find a new 4.0-liter V-8 engine that produces 550 horsepower and 567 pound-feet of torque. That's an increase of 30 horsepower and 14 pound-feet of torque from the outgoing V-8. The engine is paired with Porsche's new eight-speed automatic transmission with traction management and all-wheel drive.
The Porsche Cayenne Turbo can go from 0 to 60 mph in 3.9 seconds or 3.7 seconds if you have the Sport Chrono package. What makes this even more amazing is the fact that it comes with a new lightweight chassis that shaved off a few pounds compared to the previous generation.
The Cayenne Turbo promises a very smooth drive, thanks to the new three-chamber air suspension, active suspension management, and active shock absorber.