3 Awesome Stuff About the Mercedes-Benz Concept X-Class Pickup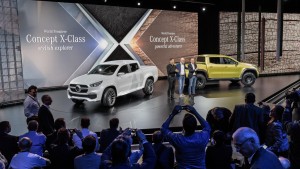 October 25, 2016 marked the world premiere of the Mercedes-Benz Concept X-Class in Stockholm, Sweden. The concept Mercedes pickup truck is a preview of the X-Class production model due next year.
1. Mercedes-Benz Design Language
While the concept X-Class carries with it the platform of the Nissan Navara, it makes itself stand out from the Navara's shadow by incorporating the artsy signature design language of Mercedes-Benz.
2. Comes in Two Flavors
Mercedes unveiled two concept models of its pickup truck in Stockholm, namely the "stylish explorer" and the "powerful adventurer."
The first variant embodies the mix of luxury and the practical features of a pickup truck. The vehicle is painted pearly white, giving it an opulent look. The snout of the X-Class is somehow similar to the styling of the current Mercedes SUVs, particularly the GLC.
The second variant has the same elements but it further elevates itself from the other by its more muscular form. The auto is finished in pea-green color and its features are jacked up by its 1.9-meter ride height, tires measuring 35 x 11.5, twin louvre grills, and extended carbon wheel arches. Moreover, it is fitted with an electric winch with metal hook in front.
3. V6-Powered
Mercedes revealed that the X-Class will have a V6 power unit. The engine is matched to a 4MATIC permanent all-wheel drive system. When it comes to hauling things, the pickup can tow up to 3.5 tons and carry around 1.1 ton.
Mercedes-Benz Concept X-Class Official Photos
Check out the photos of the Mercedes-Benz Concept X-Class concept in all its glory in the gallery below:
Other Features
So far, Mercedes is silent about the technology that the X-Class pickup truck will have. However, it is safe to assume that it will most probably mirror the ones found in the latest C-Class, SUVs and vans in its market release.