3 Changes We Can Expect From The 2020 BMW 7-Series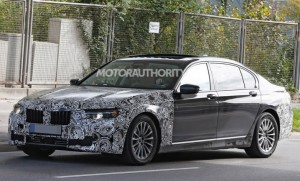 Maybe the current lineup of the BMW 7-Series is the most technologically-advanced, but experts and even BMW fans have pointed out their disappointment over the exterior styling and the rather boring interior. Remember, once the options have been added, this is a six-figure car.
Even without those options, the 7-Series is luxury in every sense. People, however, are having a hard time differentiating it from the lesser 5-Series. Luckily, there is mid-cycle update happening right now and this will introduce substantial changes to the series.
1. New Face For The 7-Series
A prototype of the new 7-Series has been spotted by MotorAuthority while it was being tested around. Although wrapped in camouflage, we can still see some of the updates we should expect once the new 7-Series arrives. From what it looks like, the 7-Series will launch a new face with new headlights, a new hood, and a more imposing grille.
These changes to the front end of the car will likely be more significant compared to the rear end, which will have a new pair of taillights.
2. Special Interior For The 7-Series
BMW wants to make the 7-Series more special, which means that passengers and the driver have to feel the luxury and elegance as soon as they enter the car. The interior will be made more plush and it will sit alongside the i8 and the upcoming X7 and 8-Series models.
3. Fresh Tech Packed In The 7-Series
There will be updates on the tech, too. The Amazon's Alexa voice assistant has been added to the new 7-Series, and we can expect to see it on all new BMW vehicles, most of which will debut early next year. We might even see more advanced self-driving capabilities for the 7-Series since BMW is working closely with Here, Intel, and Mobileye for their self-driving technology.
As for powertrain, there is no word on that, though we will see a second plug-in hybrid option together with the current 740e iPerformance.