3 Exciting Things About The 2018 Bentley Continental GT First Edition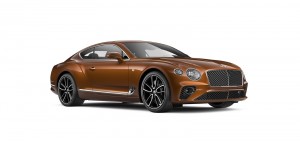 Bentley is doing the exact same tradition that the likes of Bentayga SUV and Mulsanne did—rolling off a first edition model. That means that the Continental GT First Edition will get plenty of exclusive features that would probably never be available when the line is finally launched.
Some of the exclusive "appointments" that the first edition 2018 Bentley Continental GT will have are fancy rotating displays, veneer options, and model-specific cosmetic identifiers. All of these help cement the grand tourer's special edition status.
1. "Orange Flame"
Orange Flame—that's what they are calling the body color that this special edition will come in. To be truly special, the 2018 GT Continental must have a truly attention-seeking visual representation, and that will begin with an exciting new color. There is no mention whether the grand tourer will only come in this color, but the online configurator shows there are 13 different colors we can choose from—Rubino Red, Sequin Blue, Peacock, and Damson, among others.
2. Rotating Display
The central feature of the 2018 Bentley Continental GT First Edition is the rotating display. The feature lets you switch through three different fascia panels, depending on your mood. The standard configuration is the 12.3-display, but you can also go for the more classical look of three analog dials or a veneer-only fascia that appears only when the car is not running.
3. Unique Contrast Stitching
Another feature that is limited to the First Edition is the diamond-in-diamond quilt stitching on the seats, the door panels, and the rear quarter panels. There's also a unique contrast stitching available only for the First Edition. Aside from these, Bentley also partnered with Mulliner for a unique driving specification package that includes alloy foot pedals, jewel-finish oil and filler caps, and a set of 22-inch wheels that are available in bright paint, black, hand polished, or full polish finishes.