3 Factors That Make The New Fiat 124 Spider S-Design Special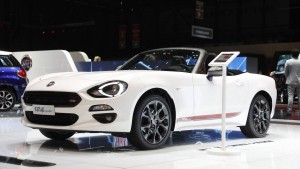 Fiat launched another variant of its ever-popular Fiat 124 Spider at the Geneva Auto Show. Remember, the Spider 124 was revived in 2016 after 50 years of dormancy to compete with the likes of Mazda Mx-5 Miata. The Italian roadster, however, was decidedly more stylish than the Miata, thanks to Fiat's decision to come up with various variants and trims, including an Abarth model and a racing edition.
1. Exterior
This little Italian number gets more polished and elegant because of a number of things—steel finish roll bar, A-pillar, side mirror caps, standard foglamps, chrome exhaust pipes, exclusive 17-inch wheels, red side sill stripe, and tricolor badge. The red side sill stripe is not something everyone can go gaga over but if it is offered in other colors, then that's more options for owners.
2. Interior
The S-Design comes with a bit of more extra fun and sophistication in the cabin. The interior will remain familiar to those who previously owned a Fiat 124 Spider in the past, but there's a slew of features that extra standard features that owners will get to enjoy. Among these are the leather-wrapped seats and steering wheel, automatic climate control, cruise control, and the Keyless Go system. There's also an MP3 radio unit with USB port and four speakers. Safety features are also enhanced through the inclusion of four airbags.
3. Drivetrain
Everything remains standard under the hood. It will come equipped with the same turbocharged, 1.4-liter four-cylinder engine as the regular 124 Spider. The output remains at 140 horsepower and 240 Nm of torque. The engine is paired with either a six-speed manual or automatic transmission.
Photos
Check out the official photos of the Fiat 124 Spider S-Design Special at the Geneva Motor Show in the gallery below, which were provided by Motor1:
Video
Here is also a video highlighting the awesome driving features of the new Fiat 124 Spider S-Design: