3 Features Of The 2017 Ford Explorer Platinum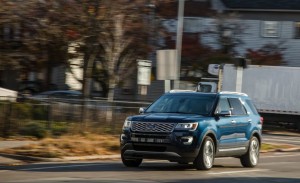 This top-of-the-line Ford Explorer Platinum gets a hefty price tag of $54,180. The exterior details are almost similar to the lesser Explorers, but the interiors certainly separated itself, thanks to the 10-inch digital gauge cluster, quilted leather seats, leather-wrapped dashboard, and real wood and aluminum accents found on the dashboard, doors, and steering wheel.
Here are the top 3 features of the SUV according to a source:
1. Stronger And Faster
Standing at 4,980 pounds, the Platinum sets itself to be the heftiest out of all the current Explorers. But, this didn't stop Ford from engineering the vehicle to be its quickest, too. That's largely because of the Platinum's twin-turbocharged 3.5-liter V-6 EcoBoost engine that it shares with the Explorer Sport.
This engine can deliver 365 horsepower and 350 lb-ft of torque. It is paired with a six-speed automatic transmission with a pair of steering-wheel-mounted paddle shifters. Standard is all-wheel drive. It also comes with 20-inch wheels in all-season Hankook tires.
2. Premium Cabin
Once inside, you'll feel the premiere and luxurious materials being offered by the Platinum. The central touchscreen is more responsive—there's no need for a second or third tap to confirm a request. It has standard features such as an adaptive cruise control, lane-keeping assist, an automatic parking system, dual-panel sunroof, a blind-sport warning system, and a front-mounted camera.
The three rows have more legroom, although they feel slightly more cramped than the Dodge Durango. It, however, boasts of the four cubic feet of cargo space behind the rearmost row.
3. Cheaper Than The Competition
The price tag may be hefty for a midsize crossover SUV, but it's certainly more affordable than the Acura MDX and the Infiniti QX60, both of which come with the same equipment levels. The only thing that the Acura and the Infiniti hold above the Platinum is its more luxurious branding. In terms of power, both vehicles don't offer the V-6 in the Explorer Platinum.