Top 3 Features That We Can't Wait To See In The I.D. Buzz Vokswagen Bus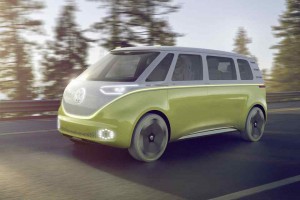 Since 2001, German company Volkswagen has been hinting of the possible return of its much-loved Microbus. After more than a decade of waiting, it looks like VW is finally ready to give us what we have been looking forward to—the I.D. Buzz.
The next-generation bus first appeared as a concept car called the Bulli at the 2011 Geneva motor show then as the electric Budd-E Concept at the Consumer Electronics Show in 2016 and finally, as I.D. Buzz Concept at the 2017 Detroit auto show.
During the Pebble Beach Concours d'Elegance, VW announced that the I.D. Buzz will be put into production and will be released sometime in 2022. This will make the second time that VW tries to make its mark in the electric vehicle industry. The first one was the compact four-door hatchback called the I.D.
1. I.D. Buzz Cargo
It looks like we're not only going to be treated to an I.D. Buzz, but an I.D. Buzz Cargo as well. VW promised that the minibus won't just be able to carry passengers, but cargo, too. Aside from that, the passenger variant will have configurable seating and interactive connectivity. The seats can be turned almost 360 degrees, so that passengers face one another.
The I.D. Buzz will also be able to save user settings or profiles to the cloud. The setting will save the seat position, destinations, music preferences, colors of the display, and many more.
2. Battery and Power
VW has yet to release the battery size, but the concept wears the batteries in the floor, which allow for short overhangs front and rear. The vehicle will have two motors, each one placed on the axle and can create a total of 369 horsepower. According to VW, the I.D. Buzz will be able to drive 270 miles on a single charge.
3. Autonomy
The I.D. Buzz will use Level 3 autonomy, which can handle all driving duties under certain conditions, though a driver must always be present in case the system requests for his intervention. The concept vehicle allows for a retractable steering wheel for a fully autonomous driving mode.
The I.D. Buzz will be offered in North America, Europe, and China.