3 Great Reasons To Buy The Skoda Kodiaq Scout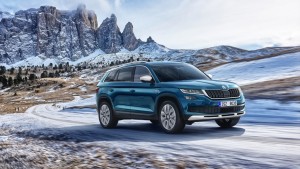 When Skoda introduced its all-new seven-seater SUV, netizens can't help but baptize it with a new name—Skodiaq. So, it's not really a surprise that its more competent off-road version is now being called the Skoda Kodiaq Scout (yes to the Scout badge).
There are few differences between the Skodiaq and this Kodiaq Scout, but the latter beats the former in ground clearance and exterior styling.
Here are the traits possessed by the new Kodiaq Scout based on a source:
Better Off-Road Credentials
Thanks to an increase in ground clearance, drivers of the Kodiaq Scout will undoubtedly have a better experience with this new SUV. It will come standard with an all-wheel drive traction just like the Octavia Scout. The exterior styling differentiations included a rear underbody protection that's great for off-the-road performance.
Varied Driving Selections
The Kodiaq Scout uses the mid-range Ambition trim, and packs the standard security features like the Off-Road Assist. It also has a total of six different Driving Mode Select system: Eco, Comfort, Normal, Sport, Individual, and Snow.
You can enjoy all of these driving amenities while in the luxurious interiors with standard equipment such as 10-color LED ambient lighting, Alcantara upholstery, steel pedals, textile floor, mats, and an infotainment system with eight speakers.
Three Powertrains Options
Three powertrains are available: the 1.4 TSI as the base model, the higher-end 2.0 TSI, and the most popular 2.0 TDI. The base model can produce 150 horsepower (110 kilowatts) that is good to go 62 mph in 9.8 seconds. It has a top speed of 122 mph.
The 2.0 TSI, on the other hand, gives off 180 horsepower (132 kilowatts) to go 62 mph in eight seconds. It has a maximum speed of 128 mph.
Undoubtedly, the most popular choice for drivers would be the 2.0 TDI, which can produce 150 or 190 horsepower. The first one can go at 9.5 seconds and has a maximum speed of 122 mph while the 190 will have credentials of 8.9 seconds and 130 mph.
All of them will come standard with AWD with an electronically controlled multi-plate clutch in front of the rear differential. The ground clearance is 194 mm. The SUV comes with an extra protection for the underbody, brake and fuel lines, cables, and engine.