3 Important Features Of The 2018 Ford Mustang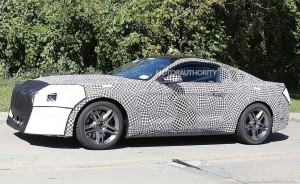 The first spy photos of the prototype for the facelifted 2018 Ford Mustang have just arrived, and did they arrive in style. Though only a facelift, so it's expected that changes will be minimal, Ford engineers still went to great effort to mask the tweaks done.
Here are the top 3 important features of the upcoming Ford Mustang that we found out so far based on spy shots and rumors:
Front bumper receives "dramatic" change
The front end seems to be receiving a lot of attention, based on the prototype just uncovered. The most "dramatic" change comes with the new design for the lower section of the front bumper. Apparently, this will have an A-wing shape for the front splitter. Aside from the front bumper, there will also be tweaks on the headlights, specifically on the internal graphics. The shape of the enclosure won't likely be changed.
New engine option for high-end models
What fans will be clamoring for in the coming months is the mechanical changes made on the 2018 Ford Mustang. There will be a new 10-speed automatic developed by Ford and General Motors that is going to be available as an option for high-end models. The current 6-speed automatic will be retained for the lower-spec variants. This 10-speed option is already being utilized by the 2016 Chevrolet Camaro ZL1. Reportedly, it shifts faster than Porsche's dual-clutch transmission. Good news, though, the 6-speed manual will remain for most models.
As for the speed, the current portfolio should be retained, though there will be changes in terms of power and gas mileage. The Mustang V-6 enjoys 300 horsepower while the Mustang EcoBoost has 310 horsepower and the Mustang GT produces a whopping 435 horsepower. The Shelby GT350 and GT350R models, on the other hand, can power up to 526 horsepower.
Arriving as a 2018 model
The facelifted Mustang, which will be introduced in 2017, will come out as a 2018 model. But also arriving for the same model-year is the Mustang Shelby GT500.