3 Important Things To Learn About The 2018 Lucid Motors Air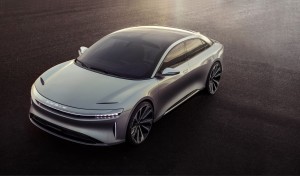 The release of the Tesla Model S triggered companies to do research on what could possibly be the best and most affordable electric cars. And while most companies are intent on electrifying their lineup with mass-targeted EVs by 2020, specialty manufacturers like Lucid Motors Air is coming up with their own version of a funky electric sedan.
1. Exterior
Based on the photos of the car from a source, the two most noticeable things about the Lucid Air is the lack of radiator grille and the massive windshield. The engineers over there were pretty confident that the lack of the grille won't hinder the airflow needed for the motor and batteries, and that's largely thanks to the vents in the front hood. The massive windshield adds to the very modern styling.
2. Interior
The unique exterior would only need to be completed by the superior styling of the interior, too. The primary focus of anyone who would see the interior of the car is the floating dashboard with a huge display module at the front of the driver. This includes three different displays—one for navigation and driver information center, one for the instrument cluster, and one for the battery charge state, range, etc.
The front cabin might be nice, but the rear passenger seats are on another level. Angled like a bathtub, which means the seats are reclined, the rear cabin is unparalleled in comfort and luxury. There's a long center console in the middle of the seats that also houses a small display to let passengers control various features.
3. Drivetrain
Lucid developed its battery for over a decade, allowing it to go 400 miles on a single charge on 1,000 horsepower of near-instance go juice. The engine itself is an electric motor and transmission that are probably better than what we now see in the market.
The base model of the Lucid Motors Air offers up to 240-mile range with 400 horsepower in a rear-wheel-drive configuration. It should be able to compete with the Model S, including a much cheaper price of $52,500.
Once it is launched, there will also be a Launch Edition that has 1,000 horsepower and 315 miles of range on a single charge.