3 Important Things You Should Know About The 2019 Skoda Kodiaq GT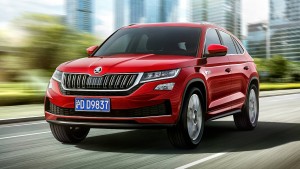 The 2019 Skoda Kodiaq GT will be exclusive to the Chinese market but it's worth taking note what the Czech company changed to make this a perfect fit for the auto industry's largest market.
The Kodiaq GT is destined to be the brand's flagship product in China but even with the GT badge, it produces a measly 217 horsepower, which is really enough for Beijing's uber congested highways. So far, all of Skoda's releases in China have been SUVs—the Kamiq, Karoq, Kodiaq, and Kodiaq GT.
1. Exterior
The Kodiaq GT is, of course, based on the standard Kodiaq. There are a few noticeable changes on the body, though—a wider bonnet and a split, 12-slat, blackframed grille with chrome-plated dual ribs. The LED headlights and LED daytime running lights use the same unit while the fog lamps are placed higher than the conventional setting.
The roofline has a steep slope at the back, which might be a problem for the headroom inside the cabin. There's also a prominent crease that runs from the headlight to the taillight while the side skirts are dressed in black plastic. The Kodiaq GT has a dynamic side profile, thanks to the merging of the roofline and the flat tailgate.
2. Interior
Inside, the cabin is dominated by the waterfall center console fitted with knobs and buttons that the driver can reach easily. The "Virtual Cockpit" is fully customizable, Skoda said, and the car will always be connected, thanks to a slew of connectivity features such as Wi-Fi access, Apple CarPlay, MirrorLink, Baidu's Carlife, among others.
3. Drivetrain
The SUV gets a 2.0-liter TSI petrol engine that makes 184 horsepower. That engine is paired with front-wheel drive and a seven-speed DSG automatic transmission. The same engine is available in a different configuration that makes 217 horses and pairs with an all-wheel-drive setup through a seven-speed transmission.
As for safety features, the Kodiaq GT will come with Blind Spot Detection, Adaptive Cruise Control with stop-go functionality, Front Assist, and many more.
The Kodiaq GT should be priced between $4,000 and $5,000 higher than the standard Kodiaq. Skoda plans to introduce it at the Guangzhou Motor Show this month.