3 Key Selling Points of the Volkswagen Tiguan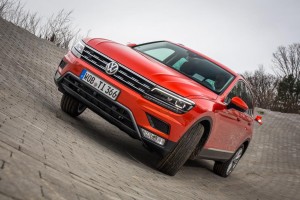 The Volkswagen Tiguan is one of the best medium-sized SUVs in the world today. The pricing for the auto starts at £22,995, which is around $29,835.55. So what are the things that make it worth your money?
Here are the top 3 selling points of the SUV based on a Top Gear review:
1. Engine
The Tiguan is available in various engine trims. The most affordable comes in the form of the 1.4 TSi BMT 125 S 5dr. The petrol-fed unit packs a good 125 bhp enabling it to accelerate from zero to 62 mph in just 10.5 seconds.
For the environmentally-conscious buyers who are also looking for the most fuel-efficient model, the 2.0 TDi BMT 115 S 5dr is highly recommended for them. The diesel engine of the auto has a CO2 emission of 123 g/km and its fuel efficiency is rated at 60.1 mpg. Its output is pretty decent at 115 bhp with zero to 62 mph acceleration of 10.9 seconds.
For the ones who prefer the quickest powertrain, they should opt for the 2.0 BiTDi BMT 240 4Motion R-Line 5dr DSG. Priced at £38,955, the vehicle produces 240 bhp that allows it to sprint from zero to 62 mph in only 6.5 seconds. The only trade off is its 167 g/km CO2 emission and 44.1 mpg consumption.
2. Exterior
The Tiguan possesses a muscular frame accentuated by its artistically-placed body lines. The SUV measures 4,486 mm in length, 2,099 mm in width, 1,657 mm in height and 2,681 mm in wheelbase.  The standard model is fitted with 17-inch alloy wheels while the sportier, range-topping variant has 20-inch alloys wheels.
3. Interior
Not much can be said in the interior design of the Tiguan. The styling follows a practical approach, which puts over functionality and space before design. Owners can pimp up the interior of the auto with the optional Virtual Cockput TFT dials found in the Audi TT.
Photos
Check out the photos of the Volkswagen Tiguan in the gallery below