3 Main Expectations About the Audi Q8 Sport Concept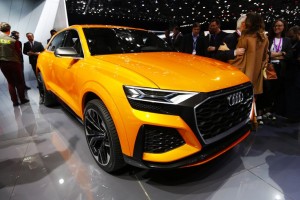 Audi already unveiled the Q8 concept at the North American International Auto Show (NAIAS) in January 2017. For the time time, the luxury vehicle brand showcased the Audi Q8 Sport concept at the 87th Geneva International Motor Show.
Check out the 3 things we can expect from the Audi Q8 Sport concept based on a source:
1. Engine
The Audi Q8 Sport concept is highlighted by its high-performance feature. The vehicle may not carry with it the S or RS trim of its brand but its power unit is something to behold.
Beneath the hood of the auto lies a 3.0-liter V6 engine matched with an electronic supercharger. The hybrid unit produces 476 hp and 516 lb-ft of torque. The configuration of the vehicle allows it to accelerate from zero to 62 mph in just 4.7 seconds.
2. Design
The Q8 is Audi's new entry to the full-size luxury sport utility vehicle segment of the market. It is defined by prestige through the use of emotional styling found in the SUV coupes' of the brand and its main competitors. However, the automaker made sure that its legroom is not compromised. The Q8 is 5.02 meters long and 3 meters in wheelbase.
To distinguish the Q8 Sport concept from its earlier standard version, Audi made some cosmetic changes into it. The one shown in Geneva features larger exhaust tips, blacked out accents in the body to replace the chrome trim, and black honeycomb grille similar to the RS line as an upgrade to the chrome crisscross styling found in the original Q8.
3. Arrival
Audi said that the Q8 concept reflects approximately 95 percent of the things that will be found in its production version. Slight finishing touches will only be incorporated in the final version of the product. Therefore, the Q8 is estimated to reach production stage by 2018. The Q8 Sport is expected to come shortly after its standard model hits the market.
Audi Q8 Sport Concept Images
Check out the official photos of the Audi Q8 Sport concept at the 2017 Geneva Motor Show in the gallery below: