3 Major Expectations With The High Performance Toyota Yaris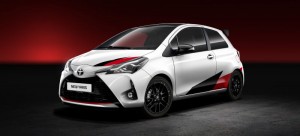 When it comes to the Toyota Yaris, not many people give it attention these days. It is, after all, merely a car, something that gets you from Point A to Point B. Nothing more, nothing less. But that's about to change as Toyota previewed a high performance (unnamed) Yaris that will soon be available for the European market.
There is not much information available for this new Yaris. It doesn't even have a name at this point. What we do know is that it's going to produce more than the 106 horsepower the current generation can.
Powertrain
At 2,400 pounds for the hatchback, the redesigned Yaris can apparently produce 207 horsepower based on a report. That's a pretty good pull for such a heavy hatchback, but we'll see more of that once the car got tested on the road.
Based on these specifications, we're guessing that the power will come from a turbocharged four-cylinder engine. That would only be the only possible reason that the subcompact can pull off a 207 horsepower.
According to Toyota, the car also has an upgraded chassis that will improve the handling. We are not sure yet what it means this time, though.
Exterior
The new Yaris fits the European market nicely. It looks sportier than the current model and it has that edge that almost makes it look like a (lesser) Mini Cooper, in a way.
The redesigned Yaris is based on the two-door version of the hatch. It will now come with sharp-looking wheels, a rear spoiler, and graphics in red and black. There are also revisions at the front and rear styling.
Competition
It's not yet clear of this Yaris will be brought to the United States. If it does, it will compete directly with the Ford Fiesta ST, the Mini Cooper S, and the Fiat 500 Abarth.