3 Major Facts About The 2019 Audi Q8 SUV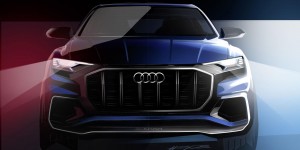 Audi is now ready to replace the Q7 with a new flagship called the Q8, which will be the SUV equivalent of an A8. According to Audi, the Q8 is so sporty that "many of its design elements are reminiscent of the Audi Ur-Quattro of the 1980s."
That's a huge claim, considering that the Audi Quattro was such a legend in the auto industry until today.
Spacious Interior
According to a report, Audi will introduce the Q8 in the coming Detroit Auto Show to showcase its spacious interior that has four "equally comfortable seats." That happens despite sporting a flat roof line. Speaking of exterior design, the Audi Q8 will come packed with its brand's octagonal grille, which is now wider than ever and positioned forward compared to the current models. The C-pillar is flat but very wide, and is accompanied by flared shoulders above the wheels.
If you want to imagine how the Audi Q8 will look like, think about the BMW X6M but with more space inside.
MLB Evo Platform
Down the line, you will probably see an RS variant of the Audi Q8. If that happens, it will be formed based on the Audi-developed MLB Evo Platform. It packs a twin-turbo V-8 engine that was designed by Porsche though linked to a ZF transmission. We may also find the SQ7's 4.0-liter TDI and electric turbocharger combination in the Q8.
If a plug-in hybrid version ever arrives, you will see a V6 TDI that can churn out 30 miles of electric driving.
No Fully Electric Q8 Yet
There was a rumor last year that Audi will introduce a fully electric Q8. That wasn't sure yet, though, after the R8 e-tron was discontinued because of a lack of sales. If you want an all-electric car, you can check out the A9 in 2020. The fully electric Q8 is still possible, no worries. After all, Audi's sales need to represent 15% EVs.