3 Cool Features of Dime Racing Package for Mercedes-AMG GT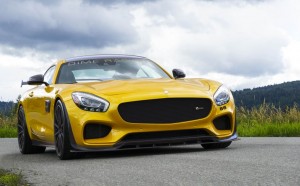 California-based Dime Racing tuning firm just unveiled its new package for the 2017 Mercedes-AMG GT. The upgraded car costs $150,200, and only 100 units of it will be sold in select Mercedes-AMG dealers in the US.
Is it worth that amount?
Here are the 3 amazing features of the new package of Dime Racing for the Mercedes-AMG GT to help you decide if it is worth every dollar in its $150,200 price tag:
1. Engine
Dime Racing retained the handcrafted 4.0-liter biturbo V8 engine of the Mercedes-AMG GT. However, the tuner installed new turbochargers in the car. Then, it tuned its ECU and gave it a better cooling system. The resulting output from all that work is a total bump of 745 hp and 731 lb-ft of torque.
The tuner hadn't released any information about the zero to 100 km/h acceleration of the auto yet. But looking at the Mercedes-AMG GT R with 585 hp that is capable of sprinting from zero to 100 km/h in only 3.6 seconds, expect the AMG GT with the Dime Racing package to go quicker than that.
2. Exterior
Dime Racing only gave minor updates in the exterior of the AMG GT. Among the upgrades include some aerodynamic elements. After that, the tuner improved the suspension of the auto and fitted it with new wheels.
3. Freebies and
The tuning specialist is throwing away free car cover plus a Växjö watch from Stefan Johansson, a former Formula One driver and 1999 winner of the 24 Hours of Le Mans. Each unit will also get its own Dime Racing-specific VIN as a proof of its authenticity and a badge of its collectibility. Lastly, the company is providing a bumper-to-bumper warranty for the car.
Photos of the Dime Racing Mercedes-AMG GT
Check out the images of the Mercedes-AMG GT with all the goodies offered by the Dime Racing package in the gallery below: