3 Must-Knows About the Volkswagen Atlas SUV In R-Line Attire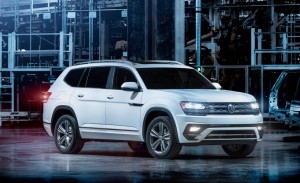 The North American International Auto Show in Detroit is where Volkswagen's much-anticipated seven-seater SUV is going to be seen once more. Together with the regular Atlas is the R-Line package, which we can expect to be launched later in the year.
The regular Volkswagen Atlas will be available in five trim levels, and will arrive as a 2018 model in spring, according to reports. The R-Line package, expected to arrive by the year's end, will only be available in the upper SE and SEL trim levels.
Exterior
The R-Line aims to add a touch of sportiness to the already well-equipped and functional Atlas. For the exterior, the package will boost the Atlas with 20-inch aluminum-alloy twin-spoke wheels, new front and rear bumpers, new side skirts, and air intakes and rear with a diffuser design. Of course, never to forget is the R-Line badging that would essentially separate this from the regular Atlas.
Interior
The changes inside the cabin are not that much. In a nutshell, it has a small R clip on the steering wheel, stainless steel pedal covers, and an R-line logo on the infotainment screen when the vehicle starts up. This pack is available for all powertrains, whether the four- or six-cylinder engines with either front- or all-wheel drive.
Powertrain
That being said, there's nothing new with Atlas R-line's powertrain. Under the hood, you'll find the same engine as non-R-line models: there's a turbocharged 2.0-liter four-cylinder engine or the 3.6-liter V-6 engine. The four-cylinder engine gives off 235 horsepower while the V-6 produces 276 horsepower. Standard to both engines is the eight-speed automatic transmission.
Front-wheel drive is what's packing in the four-cylinder engine while the 4MOTION all-wheel drive is available for the V-6 engine.
Pricing for the R-line Atlas has not been revealed for now, but let's wait if we'll get more details at the Detroit Auto Show.