3 Quick Facts About The Upgraded 2018 Subaru WRX And WRX STI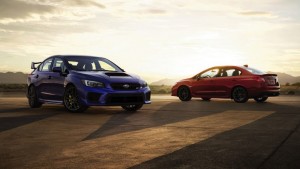 Subaru just updated these two all-wheel drive performance cars for the 2018 model year. The changes can be seen on the stylistic design, equipment, and mechanical. These latest upgrades should remain until 2020, so it's only right for Subaru to pack its WRX and WRX STI with the best it has to offer.
1. Exterior And Handling
Both the 2018 Subaru WRX and WRX STI have a new front end with modified upper grille and a larger but lower grille opening based on a source. These allow both cars to have an aggressive and sporty look. For improved riding experience and driving comfort, Subaru made changes on the suspension of both models.
The WRX, in particular, has a redesigned syncros and a reworked clutch. It's electric power steering, which brings power the six-speed manual transmission, has been retuned.
2. Subaru WRX
Exclusive to the WRX is the new Performance package that includes the Recaro eight-way power seats, new 18-inch wheels, upgraded brake pads, and red-painted brake calipers.
3. Subaru WRX STI
On the WRX STI, you'll be impressed with the fully electronic control for the Driver Controlled Center Differential all-wheel-drive system. Then, there's also the 19-inch wheels that's standard to the WRX STI.
In terms of the braking system, the WRX STI will come packed with yellow Brembo brake calipers that features six-piston front and two-piston rear calipers, new brake pad material matched to cross-drilled rotors.
Both models will get a redesigned roof-rack mounts, a faster trunk release, a rear armrest with cup holders, new interior materials, new door grab handles, and a bigger colored infotainment display that sits above the dashboard.
The cars will arrive with the WRX Limited's EyeSight safety system too. But for these models, Subaru will include the EyeSight Assist Monitor, which can display the system's status on the windshield through LED lights.
Photos
Below are the photos of the 2018 Subaru WRX And WRX STI :