3 Reasons Why The 2018 Honda Odyssey Remains To Be A Family-Friendly Minivan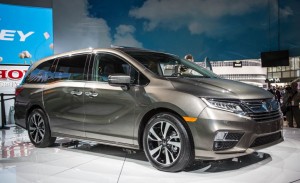 The trend all over the world now is for families to choose three-row crossovers instead of the minivans. Fortunately, in the United States, at least, there is still a huge market for the likes of the Honda Odyssey.
Introduced during the 2017 Detroit Auto Show, the new 2018 Honda Odyssey promises versatility, functionality, and most of all, space. A huge chunk of space. On the outside, the Odyssey seemed to have not changed at all from its predecessor. The only changes are the embellished beltline, a hockey-stick character line, new LED headlights and taillights, and a grille similar to the one on the Pilot.
However, here are the real gems in the new Honda Odyssey based on a source:
1. Magic Slide Seats
The previous models for the Odyssey has a removable center section for the second row. That means it can either seat three or be separated for two. Honda made this even more incredible now. The whole row can be moved forward to allow easier access to the third row. This also means that the ones on the first row can reach back easier to the people in the middle row.
The center can still be removed, so the outboard seats can slide to the center together. Either of the outboard can move to the center, depending on whether the third row wants a more spacious left or right. It can also be moved in a side-to-side positioning in increments.
2. Cabin Watch
The cabin is filled with technologies that allow for better communicating between those in the front seats and those in the rear seats. The most interesting out of which is the Cabin Watch, an infrared camera that works in darkness or daylight. It allows people in the front seats to see what's going on in the last two rows. The images on the camera will be sent to the dashboard's central display screen. Pinch and zoom is allowed.
3. Honda Sensing
The safety features are another element that should factor into why families are choosing Odyssey. The Honda Sensing packs a suite of active safety features that are standard on all models, except for the base LX.
The package includes adaptive cruise control with automated emergency braking, lane-keeping assist, road-departure mitigation, and rear cross-traffic alert.