3 Stuff You Should Know About the BMW 1-Series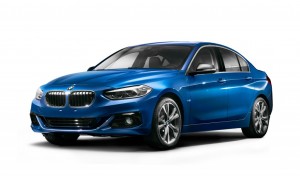 The smallest sedan in the BMW lineup, called the 1-Series, has been unveiled during the 2016 Guangzhou Auto Show. The compact sedan was first shown in July.
Here are three things to know about this new sedan from the German auto brand:
1. BMW 1-Series will only be available in China.
During the show, BMW also confirmed that the 1-Series will only be available in China, where it is assembled by the joint partnership between BMW and Briliance, the Chinese automaker. This will go against the Acura ILX, Audi A3 and Mercedes-Benz CLA.
This sedan is based on the UKL platform, the BMW Group's front-wheel-drive that is used on the X1 and the 2-Series Active Tourer and Gran Tourer models. The latest models from Mini are also using the same platform.
2. BMW 1-Series has three powertrains.
During the launch of the BMW 1-Series, the German group also introduced three powertrains for the newest sedan. The base is the turbocharged 1.5-liter inline-3 in a 118i that produces 136 horsepower. Above this sits the turbocharged 2.0-liter inline-4 in a 120i that can cough up 192 horsepower. At the top of this range is the turbocharged 2.0-liter option in a 125i that churns out 231 horsepower.
The standard transmission is a 6-speed manual while an 8-speed automatic is also available.
3. BMW 1-Series has a typical BMW interior.
Inside the 1-Series, you'll find everything you could ever want in a BMW sedan. The controls are facing the driver and the dashboard has a layered design that stars an 8.8-inch screen for the infotainment system.
To control the system, the driver will have access to a rotary dial in the center console. Upward, there's a panoramic sunroof. At the back, the rear seats can be folded to expand the cabin.
Other features include LED headlights, run-flat tires, and collision, lane departure and pedestrian warning systems.
The BMW 1-Series will be available to the Chinese market in the first half of 2017.