3 Things That Make Us Excited About The 2019 Jeep Cherokee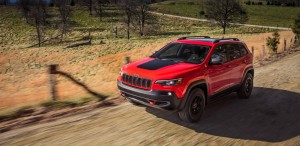 As part of an extensive freshening, Jeep's midsize SUV, the Cherokee, is getting a slew of new updates, tech, and even powertrain. This only makes us want to reach into our pockets and check if we've got money to pay for the humongous price tag we're sure the 2019 Cherokee will come packaged in.
1. Powertrain
The Jeep Cherokee gets a new powertrain courtesy of an optional turbocharged inline-four engine that could produce 270 horsepower and 295 pound-feet of torque. Other options available are the standard 2.4-liter I-4 engine that delivers 180 horsepower and 170 pound-feet of torque and a naturally-aspirated 3.2-liter V-6 that churns out 271 horsepower and 239 pound-feet of torque.
All of these three engines are combined with a nine-speed automatic transmission with a new operating software that promises to improve performance. To increase fuel efficiency, Jeep also equipped the engines with a stop-start technology.
2. Exterior
The Jeep Cherokee's famous front fascia has been redesigned to make way for daytime running lights and LED headlights that have been infused into a single unit. The stacked design on the previous model was a popular favorite, but Jeep decided its time to forego that layout.
Aside from the front fascia, there's also a refreshed hood and the seven-slot grille. In the rear, the liftgate design offers an optional hands-free automatic opening feature that you can activate with a mere foot wave under the bumper. There's also a new set of rear lighting, which is a thin red band of LED lighting that signals the stop, turn, and backing lights.
3. Interior
There's three inches of additional cabin width in the new Jeep Cherokee. This extra space now has 27 additional cubic feet for the cabin. Those who complained in the past about not being able to fit their golf clubs can now rest and be merry.
The 2019 Jeep Cherokee will be available to the US market during the first quarter. There are no pricing details as of now.