3 Things to Expect in the Volkswagen Golf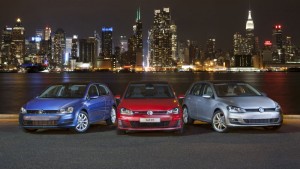 The Volkswagen Golf will have a mid-cycle update this year. The new Golf will come out next month.
Based from the information we gathered from sources, here are the three things we expect from the new VW Golf:
1. Exterior Updates
The updates in the exterior of the upcoming Golf will only be minor. Look forward to its new headlights, taillights, LED running lights, and bumpers.
2. Volkswagen Digital Cockpit
The interior of the new Golf will have plenty of upgrades though. The most notable change within the VW Golf will come from its new system called the "Volkswagen Digital Cockpit," based on an insider source.
The system is VW's version of Audi's Virtual Cockpit. The system will have either a 9.5-inch or 12.5-inch display plus a new infotainment system. Expect the Digital Cockpit to carry many new elements featured in the touchscreen display of the Volkswagen Golf R Touch Concept that was showcased at the 2015 Consumer Electronics Show.
3. Powertrain
The new Golf will likely get new fuel-efficient powertrains. The most frugal unit will be fitted with a 1.0-liter turbo three-cylinder engine. It should be reminded that the power unit used to be in the Up! and Polo models.
The performance variant Golf GTI will possibly retain its 2.0-liter turbo four-cylinder unit. However, it might get a bump in the output from its standard 217 bhp and 227 bhp.
The report said VW might not proceed with the 1.5-liter four-cylinder petrol and diesel-powered trims of the car anymore. This decision was influenced by the aftermath of the company's diesel emissions scandal.
The bad news is that the improved powertrains will most probably be offered in Europe only. Customers in the United States will have to settle for the existing powertrains of Golf. One could only hope that VW will consider tuning the powertrains of the new Golf when it comes out in the US in order to enhance its fuel economy and reduce its carbon dioxide emission.