3 Things To Know About The 2017 Toyota 86 Solar Orange Limited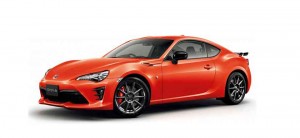 Once again, Toyota released a special edition of its popular 86 model. And although it still didn't turn the car into a full-blown performance car, it tinkered with enough technical and mechanical features to make the driving experience better for owners.
In many ways, it is similar to the 86 Yellow Limited and the 86 Style CB, though the Solar Orange Limited is still different in many aspects—the Creamsicle paint finish and the High Performance package, for example, are both exclusive to this edition.
1. It is Only Available in Japan
Sadly, much like Toyota's other 86 limited editions, the 2017 Toyota 86 Solar Orange Limited will only be released in Japan, and will unlikely land on US shores. Not only does the Solar Orange paint job is making us frustrated in many ways, but this 86's improved braking and sharper handling make the envy for Japanese cars shoot up to the roof.
2. It Sells for Less Than $30,000
 Toyota has yet to announce how many of these 86 Solar Orange Limited they are planning to build. They said, though, that prices will start at 3,251,880 yen ($29,400) for the manual transmission model and 3,318,840 yen ($30,000) for the automatic transmission model. Those who want to place their orders only have from January 31 to March 10, 2017 to do so. After the order book has been closed, Toyota will stop production to ensure the exclusivity of the edition.
3. It is Compatible with the High Performance Package
Toyota is also releasing a High Performance package, which is compatible with standard 86 models. The package includes a new set of Brembo brakes with red calipers and new shocks from Sachs. These are then paired with the special set of 17-inch thin-spoked wheels found on the 86. For those who want the Solar Orange Limited with High Performance package, you need to shell out an addition of $2,200.