3 Things To Know About The Lexus Sriracha IS Concept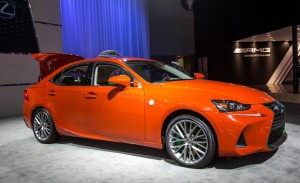 This is literally a spicy entry-level sports sedan from Lexus. Called the Sriracha IS, this whole car is based and even sprouts out Huy Fong Foods' signature Sriracha sauce.
1. The Red Color is More Than Just Paint
Can you guess what makes the Sriracha IS incredible special and quite weird? It officially brings the sweet and spicy signature sauce to the automotive industry by mixing actual Sriracha hot sauce with the red paint coated on the vehicle. To further accentuate that this car is based on the popular and much-loved spicy sauce, there are Sriracha-bottle-cap-green accents on the exterior mirrors, grille surround and brake calipers.
2. The Sriracha Inspiration Applies on the Interior
The Sriracha red paint does not stop on the exterior. The Sriracha IS has enhancements inside, too. The steering wheel has been molded from what Lexus refers to as a Sriracha-like liquid. The seats have Sriracha-inspired accents, which meant a rooster logo. There are heated seats and climate controls that can go all the way up to "Sriracha hot." The driving knob even has a Sriracha setting in place of the traditional Sport setting. Why? That is the something weirdly unique about the Sriracha IS.
3. It Dispenses Actual Sriracha
For the ultimate Sriracha lovers, there's not enough of the hot sauce in the world. We know people who actually bring Sriracha mini bottles or packets with them (even in 5-star hotels) because it's apparently impossible to eat without it. Those who are interested in the Sriracha IS will find it weirdly beautiful that the car dispenses this blend of chili peppers, sugar, salt, garlic and distilled vinegar.
The sriracha Is has a key fob with the Remote Emergency Sriracha Activation. A nozzle located at the top of the fob will actually dispense Sriracha. Oh, there's also 43 bottles of Sriracha in the car's trunk according to a commercial from Lexus.
Weirded out yet? Don't worry, Lexus will not be bringing this into production. At best, it's a little inside joke between the two companies' presidents.
Check out more photos of the car in the gallery below, which were provided by Car and Driver: