3 Things To Know About The Mid-Cycle Refresh For The 2018 Ford F-150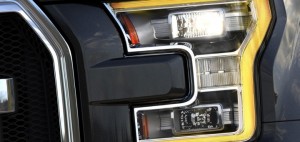 The 2017 Detroit Auto Show is just around the corner, which means we'll get to see a slew of new cars and updates on our favorite trucks and sedans. The Ford F-150 is expected to receive a mid-cycle refresh for the 2018 model year. We don't have much information about it, but the upcoming auto show seems to be the perfect place for a launch.
Front Exterior
Recent spy shots of the Ford F-150 showed a new two-bar grille that remind us of the grille on the 2017 F-Series Super Duty. Don't get us wrong, you will not be confused between these two. In fact, they are similar but barely interchangeable. What is clear is that the one on the Super Duty is more square-ish than what were snapped on the new F-150. They are also more evenly spaced, but the resemblance is still there.
The headlights have the same general bracket shape, though these have been redesigned to conform with the two grille bars.
Back Exterior
The changes on the 2018 F-150 are less obvious at the back. Compared to the current F-150, the tailgate looks smoother on this one. If you have the current production F-150, you can check out the creases there. Those are gone on this redesigned model. The handles have also been redesigned completely. The spy shots did not show the bumper and the taillights because they are covered.
From our experience, that means that there are changes on these parts. After all, Ford wouldn't take the time to cover these up if they are just going to retain their designs from the current F-150.
Hybrid Version
There are reports that a hybrid version is available for this light pickup come 2018. There are definitely plans to do that, but whether or not they are already working on it remains to be seen. There are also rumors that the truck will have a diesel engine option.