3 Things To Know About The Mini John Cooper Works Countryman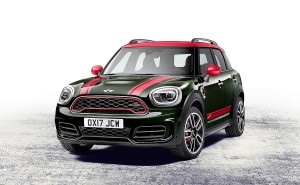 Mini's largest vehicle is going to get the John Cooper Works treatment, which means an additional power than what Mini packed it with. The next-generation Mini Countryman will become the next model to receive such treatment.
Redesigned and unveiled in October, the Countryman is the largest vehicle in Mini's lineup, meaning it will carry the burden of helping Mini get out from the slump in its American sales. According to a report, the 11-percent drop in 2016 is the brand's worst performance since 2010. Experts point out to Americans' preference for crossovers rather than sedans.
1. Countryman Is Now Considered A Crossover
Previously, the Countryman was considered a subcompact. But thanks to the upgrade, it is now under the category of a compact crossover and will be the direct competitors of the BMW X1 and the Subaru Forester.
It used a new front-wheel-drive platform shared with BMW. It's also eight inches longer in length than its predecessor.
2. Countryman Is Faster And More Powerful
The 2018 John Cooper Works Countryman ALL4 can produce 228 horsepower and 258 pounds-feet of torque. Such power can bring the Countryman to hit 60mph in just 6.2 seconds, a 0.8-second better time than what the Mini Cooper S Countryman ALL4 can achieve.
The John Cooper Works variant is coming standard with an all-wheel drive system, and is sporting a suspension with the Brembo sports brake system and 18-inch alloy wheels.
3. Countryman Will Start Deliveries Soon
The John Cooper Works Countryman will be arriving in US dealerships in April 2017, which means you can begin your orders in a couple of months. Pricing has not yet been announced, but we're hoping it won't be too disastrous to our bank accounts, so we can somehow dream of having a Mini.
The John Cooper Works is available as a treatment for the Cooper hardtop two-door, the Cooper Clubman, and the Cooper convertible models.