3 Things To Know About The Redesigned 2019 Chevrolet Spark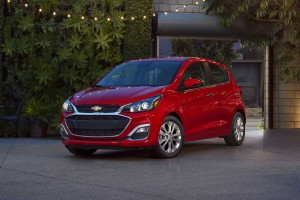 The tiny, sub-subcompact car known as the Chevrolet Spark is ready for a mild update for the 2019 model year. It's due for one since the last time Chevrolet gave the Spark a refresh was in 2016. It's time for a bit of tweaks and adjustments for this very able subcompact sedan.
But unlike last time, when Chevrolet bragged about the addition of power (17 percent) in the Spark's 1.4-liter four-cylinder engine, there's not much upgrades in the mechanical department for the 2019 Spark. Instead, there's a new front end and some tech upgrades.
1. Grille Shape Is Different
The latest Spark's front grille is quite different, thanks to a new shape and the use of chrome on the grille. The shapes of the two outboard intakes in the bumper are also different from the current and previous generations. The utilization of chrome on the grille and the LED running lamps do not deviate from the fact that this is an affordable car, though.
The LED running lights should have given the Spark a "more powerful" presence but we know that Spark can only produce as much as 98 horsepower, tops.
2. Tech Features
Like before, the Spark comes with the standard 7.0-inch touchscreen that has the Apple CarPlay and Android Auto phone integration, built-in 4G LTE data connection powering a Wi-Fi hotspot, Bluetooth, 10 airbags, and a backup camera.
All of these will come at a price of only $13,925. The overall price of the car has yet to be announced, but we're expecting that anytime soon.
3. Drive Confidence Package
Last year, Chevrolet introduced the forward-collision warning and lane-departure warning as part of its driver assistance package. For the 2019 Spark, we'll see automated emergency braking feature. In the event of an accident, Spark will apply the brakes for you or augment the driver's braking inputs to avoid or minimize a collision.