3 Things To Know About The Upcoming 2021 Mercedes-Maybach GLS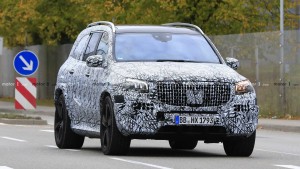 There have been talks of a Maybach GLS as far back as 2014 and now, thankfully, after nearly five years, the first prototypes have been spotted recently exiting Mercedes' main test center in Germany. This comes after Mercedes announced that it is working on a redesign for its GLS (formerly GL-Class) but this time, the ultra-luxurious Mercedes-Maybach model will be part of the lineup.
The Mercedes-Maybach GLS will challenge the Bentley Bentayga, the Rolls-Royce Cullinan, and potentially something else from Aston Martin's revived Lagonda brand.
1. Exterior
The Maybach GLS will have the same body and lights like that of the regular GLS. The grille, however, will be unique with its vertical slats. We can see some of the planned exterior styling based on the Maybach Ultimate Luxury concept unveiled during the 2018 Beijing Auto Show.
The Maybach badges should be placed on the side pillars at the rear. Buyers might also get a chance to choose a two-tone paint scheme, an option that's already being offered for Maybach S-Class buyers.
2. Interior
The Maybach GLS will have an extra spacious four-seater layout. A stretched version of Mercedes' MHA platform should underpin the redesigned Mercedes GLS and this Maybach variant. The MHA platform has been extended for SUVs sized from the GLC up (but excluding the G-Class). It is closely related to the MRA platform found in most of the German carmaker's sedans and coupes. That architecture is being used in the GLC. 
3. Powertrains
Expect the Maybach GLS to come with a 4.0-liter twin-turbocharged V-8 engine. That should be its core unit. A plug-in hybrid version should also be an option. It's still too early to talk about drivetrains, though, so there'll be lots of updates to come in the next months.
The redesigned GLS is expected to debut this month at the 2018 Los Angeles auto show as a 2020 model while the Maybach variant will follow next year as a 2021 model.