3 Things To Learn About The 2017 Dodge Challenger GT AWD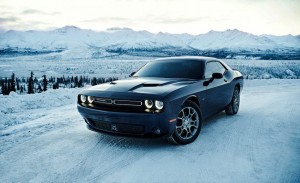 If you're looking for a muscle car that is ideal for the cold winter weather, then you may check out the 2017 Dodge Challenger GT AWD. It's not as powerful as the Camaro and the Ford Mustang, but its 305-horsepower 3.6-liter Pentastar V-6 engine is enough to plow through inches of snow.
Here are its three main features according to a source:
1. It Can Reroute Power Towards The Front Wheels
The V-6 engine is paired with ZF's 8-speed automatic transmission, which, in turn, is connected to the same transfer case and front-axle disconnect utilized in the all-wheel-drive Dodge Charger. If you drive the Challenger GT AWD under normal conditions, the 268 lb. ft. of torque charges through the rear wheels. When driving conditions require for the power to move forward, the system reroutes the power to the front.
2. It Comes With Convenient Features To Make Up For The Lack Of V-8
Unfortunately, the 2018 Dodge Challenger GT AWD will not come with a V-8 option. It did make up for it by including a Sport Mode, shift paddles, and launch control, as well as a host of other convenient features such as nappa leather for the cabin, heated and ventilated front seats, a heated steering wheel, an 8.4-inch Uconnect display with Apple CarPlay and Android Auto, a universal garage door opener, metal-trimmed pedals, and a 276-watt Alpine stereo with six speakers.
3. It Is Cheaper Than The Subaru WRX STI, But More Expensive Than The Ford Mustang
The 2017 Dodge Challenger GT AWD, with all of its muscle-type appearance and all-weather capabilities, will come with a price tag of $34, 490. That is less than the Subaru WRX STI, but slightly more than the price of the Ford Mustang GT. That's understandable, though, since the Mustang is 130 ponies more powerful than the Dodge Challenger. Production of the 2017 Dodge Challenger will begin in January, so deliveries will begin during the first quarter of next year.