3 Things To Look Out For In The 2017 Rolls-Royce SUV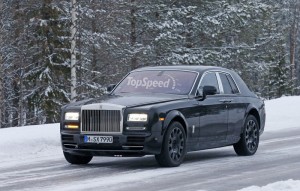 Finally, Rolls-Royce is joining the SUV party. It's better late than never, and we expect nothing but great things from Rolls' Project Cullinan.
The production model of the Rolls-Royce SUV will be tested at the Arctic Circle by the end of this month. After proving itself in the coldest place in the planet, it will head to the Middle East where its ability to combat extreme heat will be challenged.
1. Exterior
Based on the spy shots released by Rolls itself, we can deem that the company will not be trying to revolutionize the way SUVs are made. This is, after all, their first foray in the segment and they want to be as safe as possible. Through the camouflage, we can see that the SUV will sport the same massive chrome grille and a pair of slim headlamps similar to the Ghost and Phantom sedans. What differs this are the larger bumper and skid plate placed below the grille.
The rear end will differentiate Rolls from all the other SUVs in the market. It used a wagon-like roof and tailgate, the latter supporting larger, horizontal taillights. So it can ride higher, the Rolls will feature 22-inch (if not larger) wheels.
2. Interior
What we can expect from the interior is that it will be draped in leathers and Alcantara with wood veneers and aluminum slapped on the dashboard and door panels. No Rolls Royce owner ever drives their own car (right?), so we can expect the backseat to mirror a first-class plane seating. All the features in the cabin will be customizable and Rolls' Bespoke division will allow buyers to configure the SUV to their liking.
3. Drivetrain
A lot can still change here since it will be a while before Rolls releases the SUV, but we can expect a V-12 engine, as well as Ghost's twin-turbo, 6.6-liter mill mated with an eight-speed ZF automatic transmission. This pairing can produce 600 horsepower and 600 pound-feet of torque, making it the second most powerful Rolls Royce after the Wraith.
Unfortunately, you have to be really, really, incredibly rich to afford the Rolls Royce SUV, which will most likely have a price tag of around $350,000.