3 Things To Note About The New Mercedes-Benz Sprinter Van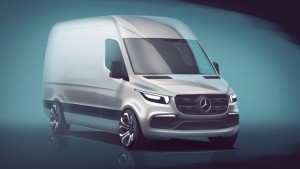 When it comes to Mercedes-Benz, it's hard to think about it without elegance and style in the equation. Harder is to define the concept of a tall commercial van with something akin to the sophistication that the German auto brand is known for.
The new Sprinter Van is a third-generation model of the large van that Mercedes has conceptualized for road trips and even cargo shipping. The rendering of the third-generation model was shown this week in Atlanta during the North American Commercial Vehicle Show.
1. Close Resemblance To The Vision Van Concept
Last year, the Vision Van concept was unveiled, much to the delight of Mercedes enthusiasts. The idea of the Sprinter Van was to focus on autonomy, mobility, and even selling, leasing, and renting capacities to deliver cargo safely and with style. The rendering was a little bit too modern for the general taste, so Mercedes produced production models with a bit more conventional styling than expected.
The production Sprinter has A-pillars that match the van's color. It also has more defined lines along the body and a more conventional grille. The "athletic" horizontal headlights look the same as the one found on the concept, but there's no information yet whether the rooftop drones will come into fruition.
2. New Technology Arrives In The Sprinter Van
There's not much detail yet on what the Sprinter Van is offering exactly. What Mercedes-Benz has been reporting is that the new Sprinter Van will feature new driver-assist and connectivity programs with telematic technology. This will allow the easier and more efficient management of vehicles.
3. Sales Of Sprinter Van Steadily Growing
According to the German company, it has sold more than 3.3 million units of the Sprinter Van since it was introduced to the market in 1995. From January to March 2017, it posted a nearly 10 percent growth in sales as compared to the same period last year.