3 Things To Watch Out For In The 2017 Kia Picanto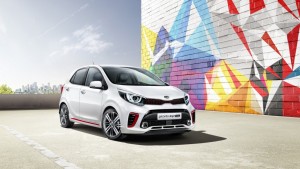 It was supposed to be introduced at the Geneva Motor Show, but months ahead of the scheduled launch, the South Korean automaker released the official photos of its 2017 Kia Picanto. The design of the all-new Picanto came from the ingenious minds of the teams in Namyang, South Korea and Frankfurt, Germany.
Such collaboration between the two teams made the 2017 Kia Picanto pleasing for the European market. Here are the top three features of the car based on our source:
1. Exterior
Much of the exterior and interior look better than its predecessor. We cannot be sure, however, if this will hold true for the lower-trim models. Kia just released photos of its top-of-the-line GT Line trim. Its sporty aesthetics conveys an assertive stance because of its well-sculpted features.
The dimensions are the same with the current model, though it's getting a 15-millimeter longer wheelbase (0.59 inches). The assertive and dynamic styling was largely thanks to the positioning of the wheels in the corner.
2. Interior
The interior spacing has been updated, which is a mystery since the exterior dimensions stayed the same. But according to reports, the interior space of the 2017 Kia Picanto was a big surprise, and can rival the very best in the segment.
Aside from that, you'll be surprised with what you see—from the dashboard to the in-car technology. The new dashboard has a tablet-style screen for the infotainment system, a digital display between the two instrument cluster dials, and the latest in-car technology that all passengers can enjoy. That means, the Apple CarPlay and the Android Auto, of course.
3. Powertrain
Kia has yet to release details about the new Picanto's powertrains. But what we surely can expect are these: 1.0-liter turbocharged, three-cylinder engines that produces 100 horsepower while the other one churns out a pretty impressive 120 horsepower.
Pricing for the 2017 Kia Picanto is not available yet, but more details shall come as the Geneva Motor Show comes closer to launch.