3 Things We Can Learn From The 2019 Porsche 718 Cayman GT4 Spy Shots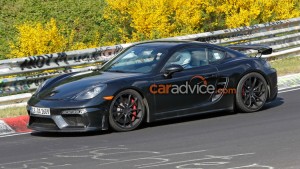 After Porsche fitted its 718 Boxster and Cayman with the GTS treatment, the German automaker is now planning the new 718 Boxster Spyder and the Cayman GT4. The spy shots shown here is that of the Porsche 718 Cayman GT4 or even possibly, a Cayman GT4 RS, which is being developed together along a new Boxster Spyder.
Powertrain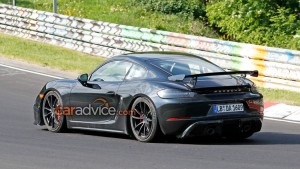 The Boxster's and Cayman's standard versions are fitted with a turbocharged flat-4 engines, though the more powerful versions run on naturally aspirated flat-6 engines (same with its predecessors). The last Cayman GT4 was introduced in 2016 and was fitted with a 3.8-liter flat-6 that could produce 385 horsepower. What we're seeing right now is possible the one that carries a 4.0-liter flat-6 that can come up with 400 horsepower or more.
We're still not clear on our information whether there will be a dual-clutch transmission seeing as the last Cayman GT4 was sold exclusively with a manual gearbox. The car should be able to go 60 mph from a full stop in just 4 seconds and the top speed would be above 180 mph. The last Cayman GT4 could hit 60 mph in 4.2 seconds and its top speed was 183 mph.
Other upgrades will include a lowered suspension, a more aggressive aero kit with larger intakes, plus uprated brakes and sharpened steering.
Exterior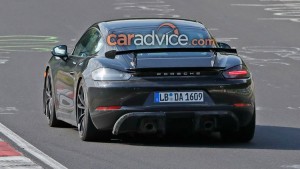 From the spy shots, we can see that the exhaust tips are no longer on the center of the rear bumper, but were moved toward the outer flanks. Aside from that, there are not much details to go on.
Production
There will be limited production of the Cayman GT4. If you want your hands on one, you better start asking your favorite Porsche dealer. These special edition Porsches sell pretty fast.
Speaking of GT4, there's another GT4-spec racing version called the Clubsport. A prototype of this was seen being tested at Italy's Monza.
Photos by: CarAdvice