3 Things We Know About The New 2020 Nissan Sentra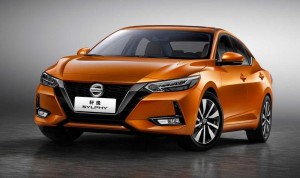 Nissan just unveiled the new Sylphy at the 2019 Shanghai Auto Show. Known as the Sentra in the US, this sedan is an important component of the Japanese automaker's lineup. While it's a successful little piece, the Sentra never did much for people who want more from a car then simply taking them from point A to B.
That's about to change with the 2020 Nissan Sentra. It looks like Nissan is following in on the footsteps of Hyundai and how it upped the game with the 2020 Sonata.
A New Face With Massive Grille
Nissan decided to go all the way out by incorporating the trendy massive grille on its Sentra. The big grille was toned down by the signature-collar design, known as the V-motion grille, that now sits just a little above the front bumper. The Sentra also features LED headlights and daytime running lights, as well as new rectangular fog lamps.
All in all, Sentra looks similar to its siblings, the 2020 Altima and the 2020 Versa, when seen from the front.
A Cabin With Luxury Written Over It
When you step inside the 2020 Sentra, it doesn't at all feel like you're in a car that's in the $20,000 range. The now flat-bottom steering wheel is less cluttered than the one in the 2019 Sentra. There's a blank space on the right which might mean that the Sentra can come with active driving assistance such as cruise control.
There's a seven-inch TFT color screen in the instrument cluster and it gives off information to the driver and the passengers. The highlight of the console, however, isn't even the floating infotainment system. It's the three circular air-conditioning vents that are controlled by knobs and buttons. There will be no touchscreen display for the 2020 Sentra, which is a bummer and could seriously affect its marketability. We'll know more when this moves into showrooms.
Perhaps, the best thing about the new Sentra is its cabin space. You can haul a lot more people in this sedan and they'll still feel comfortable. Safety tech includes forward collision warning, blind spot warning, lane departure warning, cross traffic alert, and intelligent driving alert.
An Engine That's Nothing New
Nissan is marketing 2020 Sentra's engine as "new," but we have seen this same setup in the Versa, Kicks, Note, Dacia Lodgy, and Duster. This is the third-generation version of that engine—a 1.6-liter four-cylinder HR16DE unit that generates a meager 137 horsepower, 13 more than the outgoing Sentra.