3 Things We Know So Far About The 2020 Hyundai Sonata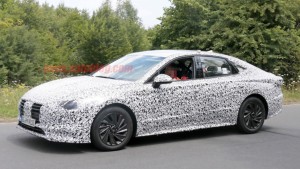 A prototype for the new mid-size 2020 Hyundai Sonata has been spotted while being tested at the Nurburgring track in Germany. It looks like it's wearing its final skin, though the absence of production taillights and side skirts is noticeable.
1. Based On The Le Fil Rouge Concept Car
At the Geneva auto show last March, the South Korean automaker introduced the Le Fil Rouge Concept Car. The new Hyundai Sonata will borrow key elements and styling from the concept car, including the fastback roof leading to a large duck-tail spoiler. The concept will also be the basis for the sculpting on some of the panels, as well as the short overhangs and multi-slatted grille. Though these elements are in a toned-down form on the new Sonata, they are nonetheless reminiscent of the concept car in March.
2. It Might Carry The Same Powertrain Options
Hyundai hasn't been very vocal about the mechanical setup of the new Sonata. The current generation offers a 1.6-liter turbocharged inline-4, a 2.0-liter turbocharged inline-4, a 2.4-liter inline-4, and a plug-in hybrid option. There should be more options available for the new model year and the 1.6-liter turbo engine might be dropped from the lineup. The cars should be set up with a front-wheel-drive system.
3. Coming In The Fall Of 2019
The all-new Sonata will be available in dealerships in the fall of 2019 as a 2020 model. That means that the debut should be sometimes in the early months of 2019. Watch out for the i45 name in other markets because that might be the name the Sonata will be using.
The Sonata is in direct competition with the likes of the Chevrolet Malibu, Honda Accord, Nissan Altima, and Toyota Camry. All of these cars have been updated and redesigned in recent years. Competition in this segment is tougher than ever, of course, seeing as most people now prefer crossover SUVs over mid-size sedans.
Check out the new spy shots of the 2020 Hyundai Sonata in the gallery below: